"The detailed application form would be made available to you after E-mail verification"
Living in gandhinagar
Gandhinagar, Gujarat's capital city, rises on the west bank of the Sabarmati River, about 30 kms. North East of Ahmedabad, the commercial and cultural heart of Gujarat. Gandhinagar presents the spacious, well-organized look of an architecturally integrated city. Gandhinagar, a well-planned city, stretches into 30 sectors into which the city has been divided. Apart from this there is a generous provision for wide-open green parks, extensive plantations and a large recreational area along the river giving the city a lush green garden-city atmosphere.
The Gandhinagar- Ahmedabad area, is known for the renowned Indian Institute of Management, National Institute of Design, Indian Space Research Organization, Physical Research Laboratory, Institute of Plasma Research and Entrepreneurial Development Institute, amongst others.
Gandhi Ashram (Sabarmati Ashram):
The Sabarmati Ashram in Ahmedabad, so named after the holy river Sabarmati, situated on the river's banks is such an example. This site no longer functions as a working ashram but as a museum and an institution whose aim is to preserve and propagate the legacy of the Mahatma. Hundreds of visitors, both foreigners and locals, with curiosity and feelings of devotion arrive here and feel inspired and enlightened. 
Distance: Approx. 12 km
Akhshardham Temple:
Akshardham is situated in the capital city of Gandhinagar, which lies near Ahmedabad. The magnificent temple is dedicated to Lord Swaminarayan. The temple has pink stones with beautiful carvings. Surrounded by beautiful gardens and awesome fountains. 
Distance: Approx: 10 km
Children's Park:
An attraction for children and holiday, makers of the Children's Park in Sector 28 has a mini train and a lake with boating facilities.
Distance: Approx: 10 km
Sarita Udyan:
In sector 9 and along the river front is the lovely Sarita Udyan, an ideal spot for picnickers. The entire area is being developed to provide full recreational facilities.
Distance: Approx. 8 km
Fossil Park-Indroda Nature Park:
Indroda Nature Park (INP) which is spread over an area of about 400 ha in Gandhinagar- the capital city of Gujarat. The Park is divided into two parts on the banks of river Sabarmati. The western part is known as Indroda Nature Park and the eastern part of the river Sabarmati is known as Wilderness Park. The Park has many interesting facets.
A dinosaur fossil park at Indroda wherein the fossilized remains as well as life – sized models of this prehistoric fauna of Gujarat will be displayed. Their ecosystem depicting the floral diversity with pines, palm, ferns and other early angiosperms such as magnolias will be grown to make the set up seem life like.
Distance: Approx. 10 km
Thol Lake-Bird sanctuary:
Thol lake bird sanctuary is a shallow freshwater body surrounded by marshes on the edge and scrubby forest embarking the sides. The lake sanctuary covering an area of 7 square kilometers was declared officially in 1988 and is also known by the name of Thol Bird Sanctuary.
Distance: Approx: 40 km
Nalsarovar Bird Sanctuary:
The lake - Nalsarovar - and the wetlands around it were declared a bird sanctuary in 1969. Spread over 120 sq.kms, the lake and the extensive reed beds and marshes are an ideal habitat for aquatic plants and animals. The lake attracts a large variety of birds like plovers, sandpipers and stints.
Distance: Approx: 80 km
Wild Ass Sanctuary:
A flat, salt-cracked vast barren desert, hissing sand storms and the majestic Ghudkhar roaming over mirage waters make the little rann of Kachchh an unique and one of the most fascinating wilderness of the world.
Distance: Approx. 130 km
Gir National Park:
Gir National Park is the only place in asia where Asiatic Lions are found. 
Distance: Approx. 350 km
Heritage walk:
Heritage walk is conducted by Ahmedabad Municipal Corporation. A volunteer guide takes visitors on tour of wonderful architecture and intricacies of lanes of Old Ahmedabad.
Distance: Approx. 20 km
Sun Temple:
The Sun temple of Gujarat is situated at Modhera. It is akin to the Sun Temple at Konark and is dedicated to the Sun God, Lord Surya. Though the temple has lost its glory of the yore, it is still an architectural and art master piece. It was built in 1026 AD
Distance: Approx: 102 km
Adalaj Vav (Step well):
Adalaj Vav is counted amongst the finest architectural structures of Gujarat. It was built by Queen Rudabai, in 1499 AD.
Distance: Approx 18 km
Calico Museum of Textile:
Calico Museum of Textiles is one of the finest museums to be set up in India. The museum houses one of the rare collections of textiles, dating back to the 17th century. It is presently located in the Sarabhai Foundation, in the Shahibag premises. Calico museum is the world's best museum on textiles.
Distance: Approx. 20 km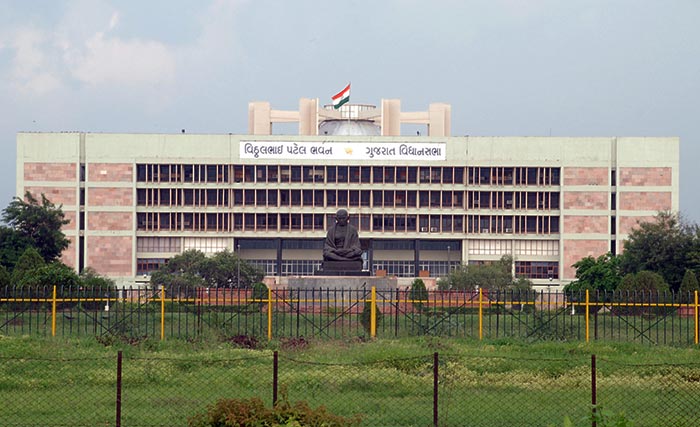 "A WORLD CLASS UNIVERSITY WHICH PROVIDES EDUCATION ALONG WITH GREAT OPPORUNITIES AND SUCCESS TO ITS STUDENTS"